I've been riding quite a bit but thought y'all were getting tired of the same pics of horse butts and trees so haven't posted for a while. We rode about 16 miles yesterday and did a loop that we did last fall. I think I probably posted pics of it then but here are more! Susan is riding Bo, Wanda is on Banchee and I'm riding Wanda's horse, Willy.
It was an absolutely gorgeous day and a Saturday so there were a lot of riders out. We met several on way out.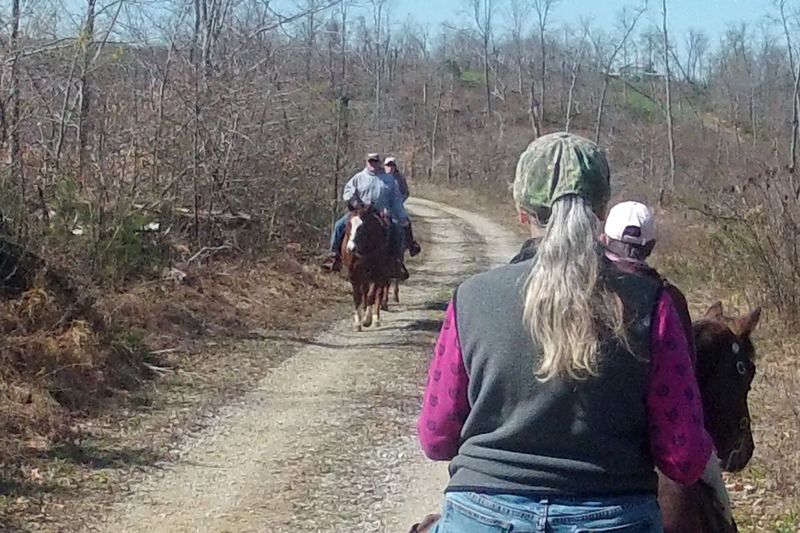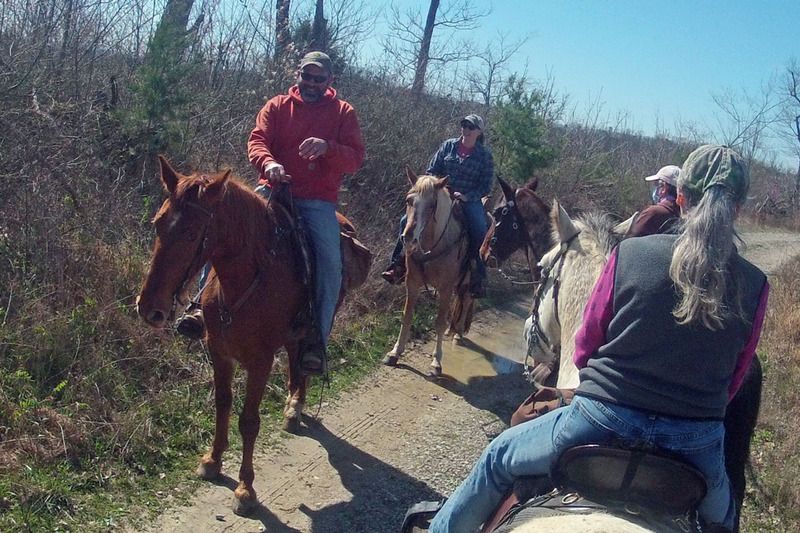 It was great to see so many enjoying their horses and the outdoors.
This sign just cracks me up! Green horses and green/scared riders or Flatlanders [
] might have problems because there is about 3/4 of a mile of steep rocky switchbacks. The elevation drops almost 175 feet in that distance.
That's Susan in front of me and if you look to the right behind the pine trees, you can see part of Wanda & Banchee.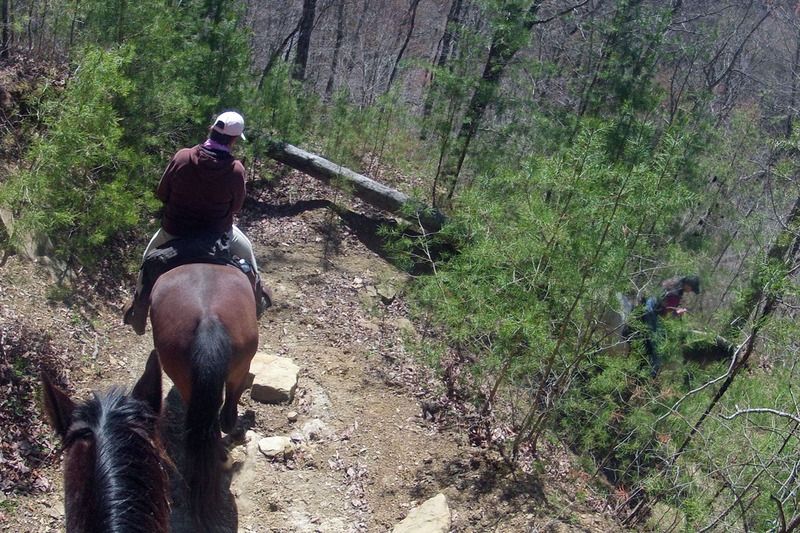 Another switchback.
Here is a short vid of that area:
https://www.facebook.com/karen.stephenso...5574721534
Thank goodness the water is running! The ponies needed a drink after that. This is Wanda on Banchee. Banchee is a Kentucky Mountain Horse and is ... H.U.G.E. He has to be at least 16.2 hands and I bet he weighs close to 1500 lbs. He's a bit heavy but not by much. He's just BIG but such a sweetheart. Not a mean bone in him.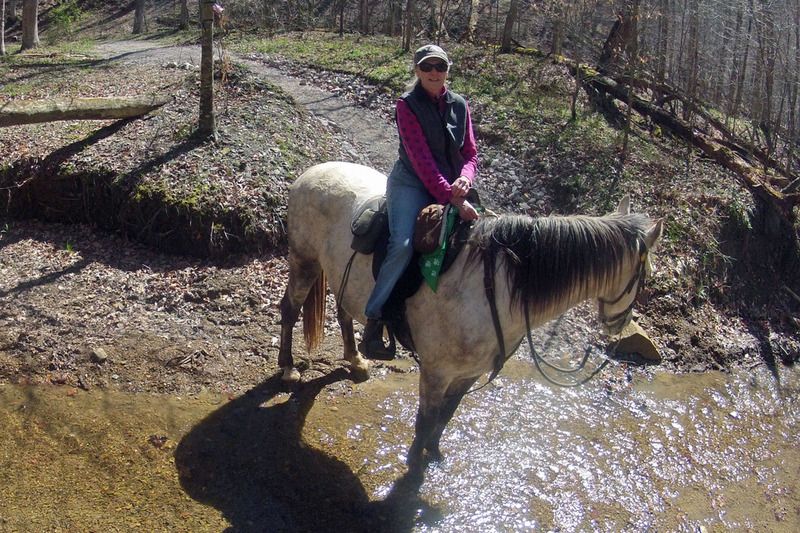 These are small but steep hills and if you are in water, there is only one way to get out and that is back up: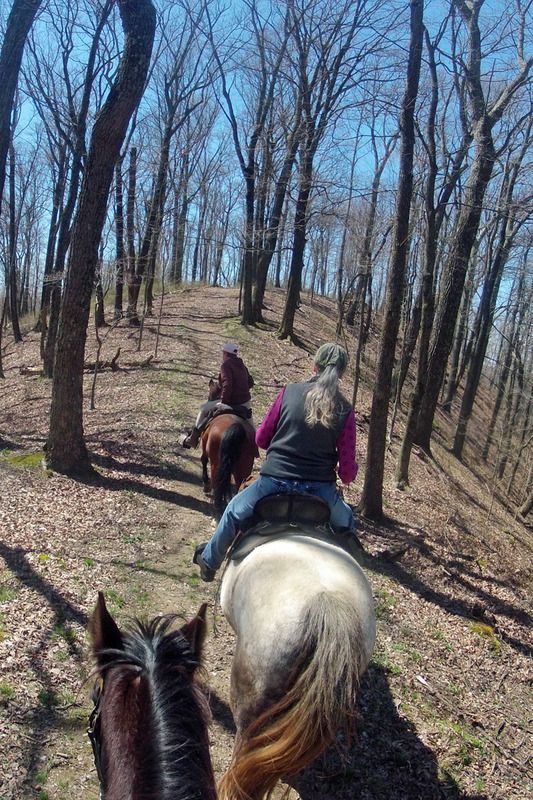 The good news is that most times when you get back down, there is more water! This pretty creek let us ride down it a way before it was blocked.
We took a trail...legal even... that isn't used a lot (we found out why but it was still FUN!). Remember how big Banchee is? And Wanda is tall so they sometimes hit things that others don't. In this case they got tangled up in wild rose (hate that stuff) and Banchee had it stuck in his forelock, mane & shoulder. Wanda had thorns stuck in her leg. It was a lot of noise coming down and dragging after Banchee but he was great. Stood still and we got Wanda off then got him cleared.
After the rose bush incident, the trail crossed the creek a couple of times and then we started climbing. The trail was passable but had eroded so there was a ditch down the middle in some areas. Willy slipped off the high part and landed on his knees and hip in the ditch and up against the other side. Fortunately, he got his balance, I stayed on and we didn't have lasting damage! It does go under the "Pucker File" though!
The shortest way home is back up that rocky steep trail which is what we did!
We're almost back to Susan's barn!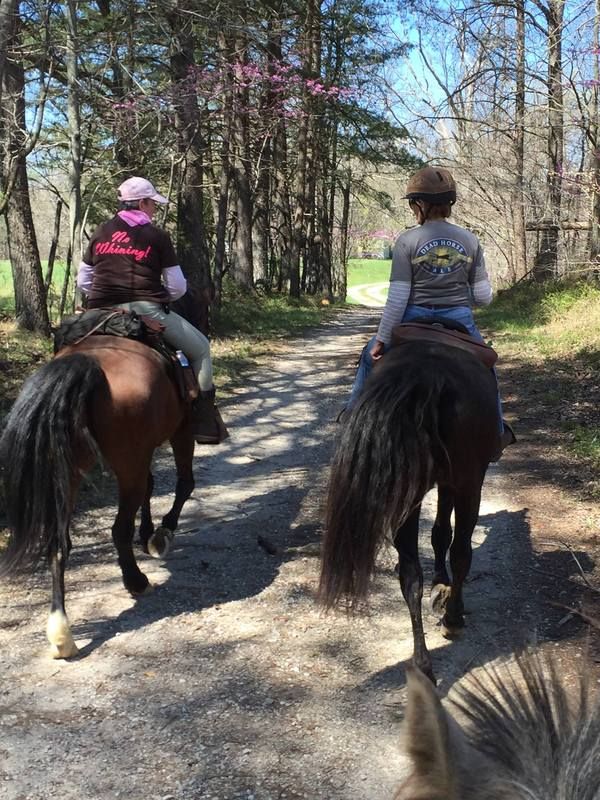 It was a wonderful day and made more so by such wonderful friends and good horses. I am blessed.
Now...it's somebody else's turn!