---
- ILoveJoe - 10-26-2006

Hello Everyone,

I am completely new to forums (a forum virgin) and hope you'll excuse my ignorance if it shows. I have spent several days reading the posts here and like the diversity of everyones levels with horses.

I have a 7yr old Appaloosa gelding named Brother Joseph (Joe) and a 1/2 quarter horse yearling named Rock Paper Scissors (Rocky).

We recently underwent a lifestyle change to accomodate our horses by selling our house 'in town' and moving to an old farmouse on 11 1/2 acres in the country. I have found that looking out my window and seeing my fat appaloosa anytime of day is very comforting. I no longer have to drive for miles and compete for arena/washrack/crossties with other boarders. I can walk outside and see my horses anytime I want and as often as I want.
The downside to this however is that while I am no longer competing for facilty use, the companionship of other horse lovers is gone.
I hope to share my horsey day-to-days with this group.

I am going to try to follow Hooks advice and post pictures here of Joe and Rocky. The pictures were taken at Ellis Farm in Walton Kentucky. I wish I had that arena!

Joe in June 2006




Rocky at 13 months in June 2006


---
- hmeyer - 10-26-2006

ILoveJoe, welcome to [de]!!!
You are very lucky to have been able to move out into the real world away from the city. I am sure you'll find that the folks here on DE will fill in nicely as your new horsey friends.
You have a couple of beautiful horses there.... just one note of concern.... it looks like Joe has something hanging from his neck. Looks something like a "person growth". Might want to have that checked.[
]
Looking forward to getting to know you through cyberspace and hearing of your horse experiences. Are you a long time horse owner or a newbie? What kind of riding do you do?



---
- ILoveJoe - 10-26-2006

Hmeyer
Thanks for your concern about Joe's growth on his neck. It was unsightly and in the end had to be removed...not a pretty sight. But in his usual stoic fashion Joe patiently endured this procedure.



[;)]


---
- tagnrocky - 10-26-2006

Hello ILove Joe,

I like Joe too! Quite a handsome guy. And Rocky is a good looking boy too. I can understand why you named him Rocky. Its dangerous to run with Scissors! (sorry I couldn't help myself!)

We have a few things in common. I, too, have an Appy, a 19 year old named Tag. And I have a Quarter horse named Rocky, who's 10.


Nice to meet you!


---
- EZ2SPOT - 10-26-2006

Welcome, ILJ! Loved your pictures...I can tell you have a good time with your horses! I have an Appaloosa mare that has the same tail as Joe, LOL!

EZ2SPOT


---
- ILoveJoe - 10-26-2006

Hmeyer and TagnRocky,
Thanks for the welcome!

After high school I started working at the racetracks in Greater Cinci and horse farms in Lexington Ky and stayed in the thoroughbred industry about 10 years.

I had been horse free for almost 20 years when I started saving for a horse of my own. Even though I have owned race horses in the past I consider Joe my 'first' horse because I can do whatever I want with him. You can't just jump on a racehorse bareback with halter only, especially if they are of any value for fear they could be injured and that would affect their training.

Joe has been my buddy since Feb of 2005. I prefer to ride western and I believe Joe prefers that as well. He hates when I go flying off over his shoulder because that pesky english saddle lacks a horn that helps keep me in place.

Rocky has been with us since November 2005, when he was 6 months old. I had been taking care of him since he was about 2 months old (work in exchange for board) and so I have been pretty much all he has ever known. He'll be 18 months old in Nov and I am looking forward to finishing him when he is 2. He should mature at about 16h (by 5 yrs old)
When Rocky is ready, my husband and I plan on taking the boys on trail ride camping trips.

I look forward to sharing experinces with others and getting advice from the 'been there done that' crowd.
[de]



---
- Hook - 10-26-2006

Hi ILJ,

Welcome to the Forum from Canada. I think you will like it here. The folks are real friendley and quick to help.

You sure started off right with your photos of Joe and Rocky. Looks like you and Joe are a team.[8D]

Did I mention we like pictures and more pictures?[
][

]

How about the rest of your pets, family etc?


---
- Red Hawk - 10-27-2006

Luv that last pic[

]! What kind of exercise do you call that? LOL!

Hello, ILJ, and welcome to[de]. I have foundation Appaloosas, though the gelding isn't as solid in his foundation lines as I'd like[
]. Still, I love them both, and they are my kids.

Glad to have you with us[

].


---
- ILoveJoe - 10-29-2006

Thanks Rh,

I call that exercise the 'graceless exit'. It seemed appropriate for a removal of the person growth Hmejer noted in the picture of Joe.

Joe is 83% foundation bred and also registered with the Colored Horse Assoc. He was used as a stallion until he was cut in Aug of 04.
He can not go out with mares in pasture, he makes quite a fool of himself. Only in pasture, everywhere else he is a perfect gelded gentleman.

I castrated Rocky at 6 months to avoid not only any stallion behaviour but also in the hope of gaining a little more height for him at maturity. His sire was just under 16h 'RCR Dun up Smooth' a registered Quarter horse and his dam was a PMU mare that came from an auction in Sistine Idaho before becoming a PMU mare.

I have seen pics of you riding your horse Terra, (is that right?) What does your mare look like?

I, like Hook, love pictures.




---
- Red Hawk - 10-29-2006

We've been having problems in getting a good webmaster, so the site hasn't been updated in quite awhile, but you may enjoy checking out www.foundationapp.org . This is the organization that I'm connected with and that my mare is registered with... FAHR. She is also registered ApHC, since that is a requirement for registry with FAHR.

Here's two shots of Terra, one with me riding her and one without. The lady behind me in the one in the river is EZ2SPOT. She's also one of my best friends, and we ride together whenever we get the time[
].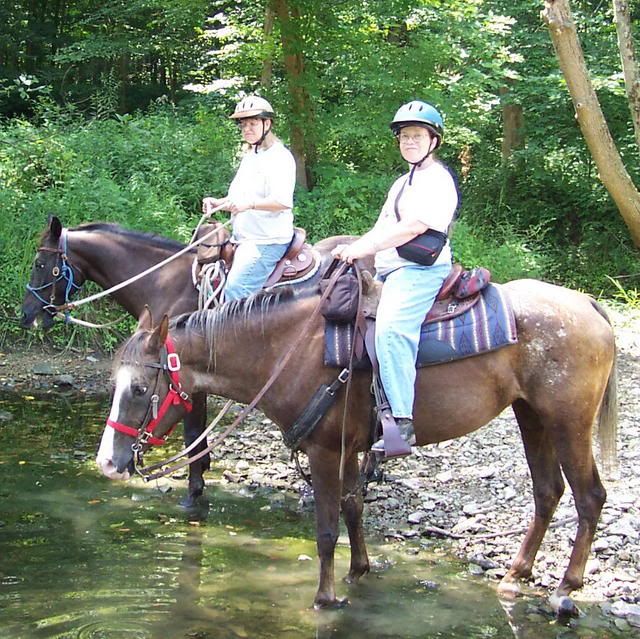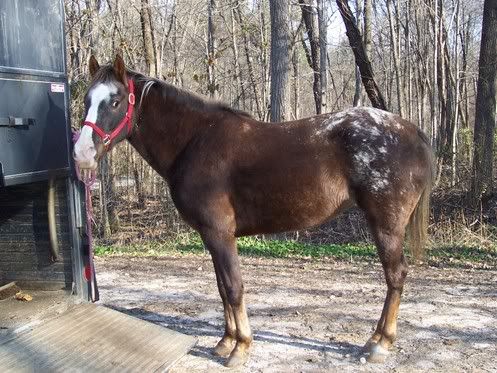 ---