---
- Termite - 03-26-2006

Thats good news, now you can sit back and relax and enjoy the new colt.

Termite


---
- Horsecrazygirl - 03-26-2006

CONGRATS!!!!!!!!!!

YAY!




---
- EZ2SPOT - 03-26-2006

Congratulations on the new arrival! Glad all went well, and will be looking forward to pictures!

EZ2SPOT


---
- beccajane - 03-26-2006

Congratulations! Sorrel is nice as long as everybody's healthy! Can't wait to see how handsome he is!


---
- Hook - 03-26-2006


quote:

---

Originally posted by Hook

FINALLY MAMA FLASH FOALED TODAY
Sorrel colt 42" tall. Labour started just before 3:30 this afternoon. Baby was born in less than 10 minutes. Every thing complete, baby pooped, sucked and was learning to trot. Back in the house by 5:30. Both Mom & baby are doing fine.

I have lots of pictures and we did manage to catch the whole thing on tape from the stall camera.
Downloading the pictures now and I will post a few when the download is complete.


---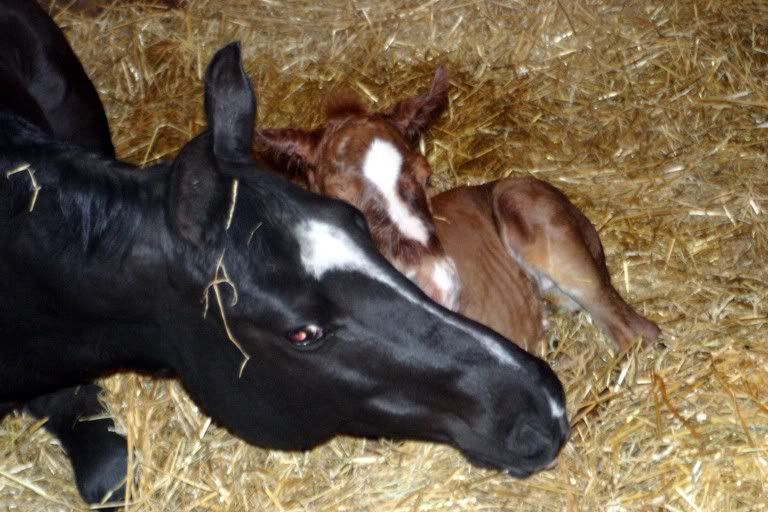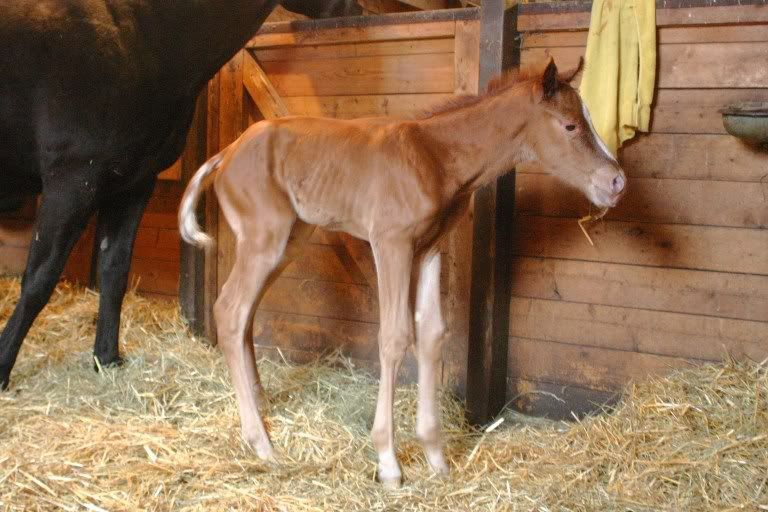 ---
- 3B_Lady - 03-26-2006

Awwwww, Hook, she's precious! I'm so glad everything went well. My other pregnant horse, Blue, is about to pop too! Her nipples are HUGE...but no sign of waxing. They're dry as a bone. She's also a lot crankier!! Well, CONGRATULATIONS on a beautiful little sorrel!!


---
- giddyupmorgan - 03-26-2006

Congrats to Mr & Mrs Hook.[cool1] Looks like ya could share 1 of them muffins with him.[
]


---
- Hook - 03-26-2006

Here is some more photos. I just can't resist. Photo bucket does take a long time to convert my 4 meg files so this time I downsized them with Photoshop first. Worked much better.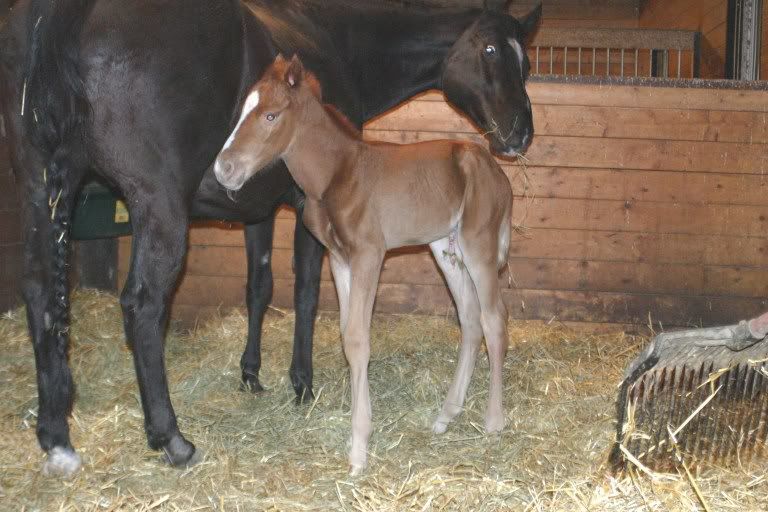 Still Watching horse TV.


---
- Parrothead - 03-26-2006

Ohhh My. sooo sweet. Congratulations!!! he was well worth the wait.


---
- appygirl - 03-26-2006

Congratulations on the new baby. Even though he's not a she and sorrel isn't black, he is still a nice looking fella, and my-oh-my he's got a nice butt.

Love the last photo with Mom and son resting.

Now YOU can get some rest! ;o)

When do we get to see the video?




---